Back to Research
Knoll
Coworking and Flexible Workplaces Poised to See Big Uptick Post-COVID
As a hybrid workplace emerges in the post-pandemic environment, and organizations roll out a distributed work strategy with both physical and remote locations, coworking and flexible spaces are poised to play a vital role in the transition and economic recovery.
Download PDF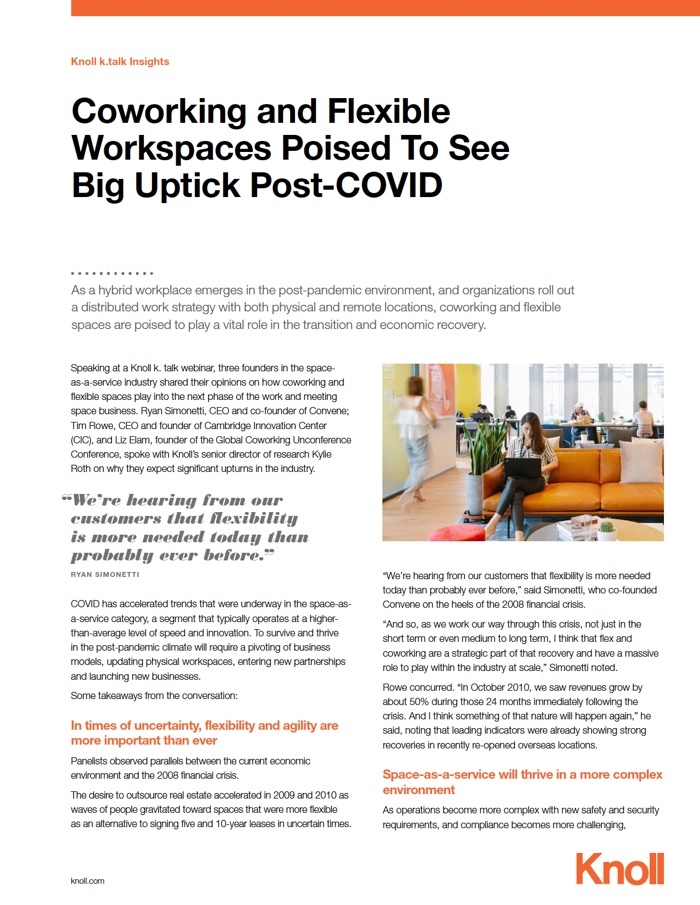 Speaking at a Knoll k. talk webinar, three founders in the spaces-a-service industry shared their opinions on how coworking and flexible spaces play into the next phase of the work and meeting space business. Ryan Simonetti, CEO and co-founder of Convene; Tim Rowe, CEO and founder of Cambridge Innovation Center (CIC), and Liz Elam, founder of the Global Coworking Unconference Conference, spoke with Knoll's senior director of research Kylie Roth on why they expect significant upturns in the industry.
COVID has accelerated trends that were underway in the space-as a-service category, a segment that typically operates at a higher than-average level of speed and innovation. To survive and thrive in the post-pandemic climate will require a pivoting of business models, updating physical workspaces, entering new partnerships and launching new businesses.
Previous Research Resource