Back to Research
Knoll
Limitless Learning: The Post-Pandemic Campus Is Connected, Flexible, Resilient
While COVID-19 has forced a reimagining of how and where we work, in the case of higher education, the pandemic accelerated trends that were already underway, according to Elliot Felix, founder and CEO of brightspot Strategy, a higher ed strategy firm focused on improving the student, faculty and staff experience.
Download PDF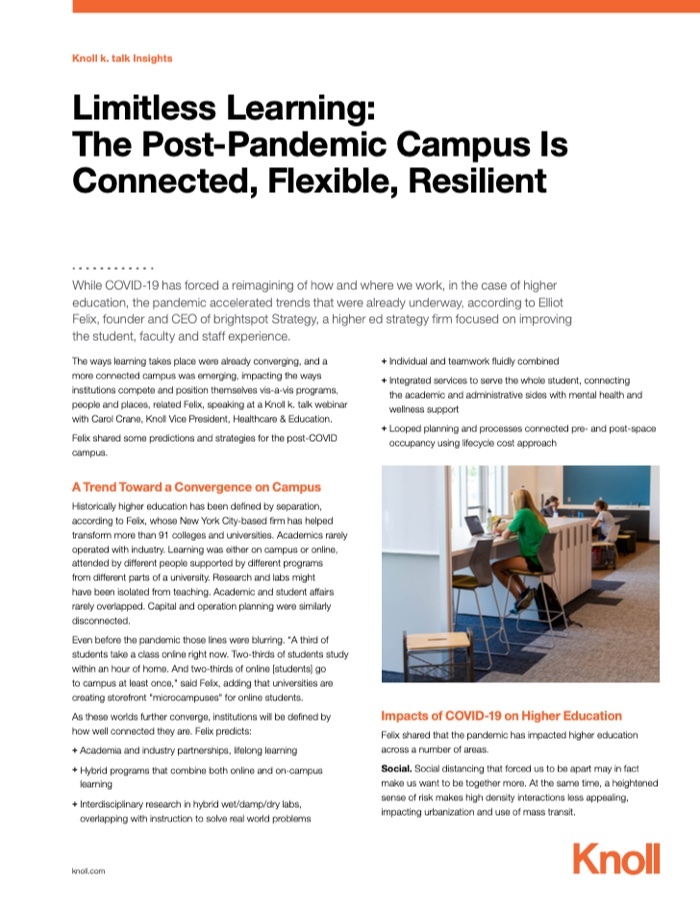 The ways learning takes place were already converging, and a more connected campus was emerging, impacting the ways institutions compete and position themselves vis-a-vis programs, people and places, related Felix, speaking at a Knoll k. talk webinar with Carol Crane, Knoll Vice President, Healthcare & Education.
Felix shared some predictions and strategies for the post-COVID campus.
A Trend Toward a Convergence on Campus
Historically higher education has been defined by separation, according to Felix, whose New York City-based firm has helped transform more than 91 colleges and universities. Academics rarely operated with industry. Learning was either on campus or online, attended by different people supported by different programs from different parts of a university. Research and labs might have been isolated from teaching. Academic and student affairs rarely overlapped. Capital and operation planning were similarly disconnected